When caterers talk about "service" the staff ratio is where you look to understand how they are supporting your event and whether they have understood your brief on the style of service you're looking for at your cocktail event.
Comparing catering services without understanding the staff ratios they've used opens your event to risk, so if the service element is really important to you, always ask your caterer for the ratio and ask them to explain who's doing what on the day.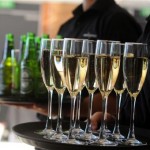 Cocktail Functions – Full Tray Service vs Bar Service Only
A good ratio for a cocktail function up to 200 guests is 1:20.  This is quality service with both tray and bar service for beverages and tray service of canapes.  Your guests shouldn't need to wonder where the waitstaff are at this ratio, the service should be attentive, conversation should flow and guests feel looked after.  For more than 200 guests you can stretch these ratios but you want to know if it's going anywhere near 1:30.
Ask your caterer how many bars will be set up (should be approx. 1 bar per 100 guests), and then how they will deliver the service so that you get a good idea of how it will look, feel and flow.   There should be transitions of tasks as the event flows with emphasis on beverage tray service to start, flowing into food service, clearing and beverage top ups.  A good Event Supervisor is one who reads the cues and makes these adjustments at the right times!
For example, for 200 guests full tray service we would provide something like:
5 waitstaff dedicated to tray service canapes and beverages (but on arrival we would dedicate 7 to beverage service, transitioning them to food, clearing and top ups as guests arrive and the event gets into full swing).
2 waitstaff clearing to keep the room refreshed
2 bars with 1 staff on each + a runner to keep the the bar stocked, clear rubbish etc
1 Supervisor to run the event, liaise with you, direct our staff.
Total waitstaff 10 + 1 Supervisor
If you are relaxed on service, restricted on budget and are happy for your guests to help themselves then bar service only would reduce these costs, but if you're adverse to pre-pours of beverages this isn't for you.
The same event bar service only would run:
3 waitstaff to put out and replenish platters on bar leaners or stations
2 bars with 1 staff on each + runner (drinks would be pre-poured)
1 Supervisor
Total waitstaff 6 + 1 Supervisor
The saving over a 4 hour event could be around $700 – or – for around $700 your event service and guest experience would go from good to fantastic.
Let your caterer know what style of service is appropriate for your guests and your budget and they will be able to provide you with a basic plan so that you understand what you're getting and more importantly….what you're not getting.
We're happy to talk to you about staffing so please do get in touch if you have any questions!