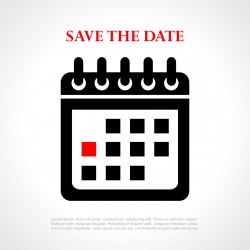 Receiving the invite is one of the first experiences of a great event.
But RSVP management rates a 4.5 out of 5 for difficulty…2nd only to table seating plans!
We hope these tips will help to ease the pain.
Start managing your RSVP's with the invitation.
First, send the "save the date" with something enticing or teasing
Think about the invitation beyond just the date and time.  What are the compelling reasons for going to the event and are they very, very clear?
Does the invitation truly reflect the style and format of the event, and the style of the guests?
Are the date, time, venue, dresscode, parking/transport clear?
If food and beverages are being served for any event other than a dinner, help set expectations by using words like "light", "substantial", "nibbles".  If you're holding a cocktail event over the "dinner" period (6-8pm) it will alleviate guest anxiety if they understand whether they will need to have dinner after your event
Are the RSVP instructions clear?
Are any incentives for early registration clear?
Set the RSVP date 7-10 days prior to the event – there will always be exceptions so give yourself a few days before you need to confirm final numbers with your caterers and other suppliers (usually 5 working days prior to the event)
Ask for dietaries or any special access needs to be provided with the RSVP
Create and schedule your weekly reminders now.  These are emails sent weekly (or as often as is appropriate) for example you could send something like these:

5 weeks until "The NZ Gala Dinner", don't miss out!  RSVP your attendance along with your dietaries or any other needs to (add the RSVP email or link here)
4 weeks until "The NZ Gala Dinner", the weeks fly by so RSVP now with your dietaries and any other needs to (add RSVP email or link here)
3 weeks until "The NZ Gala Dinner", another week closer.  The menu is set, the entertainment is booked, we just need your RSVP!  Send your attendance with your dietary or any other needs to (add RSVP email or link here)
2 weeks until, there are people waitlisting for an invite to our event – please let us know your RSVP!  Send to (add RSVP email or link here)
1 week until "The NZ Gala Dinner", please RSVP to allow waitlisted invites to be sent.  Send to (add RSVP email or link here)
Your RSVP is due tomorrow, if we don't receive your RSVP by 12pm we'll have to cancel your invitation.  So if you are intending to come make sure you RSVP (add RSVP email or link here)
Your RSVP expires today – if we don't recieve your RSVP by 12pm you will not be attending
Consider using an online RSVP manager like Eventbrite or Free-RSVP for large events
If appropriate and you have their phone numbers – call the invitee one week before the RSVP's are due
If you're having headaches with company employee events, engage the support of the management team or your CEO.  A directive to RSVP in a timely manner from the boss usually works wonders!  Another directive from the CEO a week or so before the event for the scragglers should do the trick.  Ask management to add it to the agenda for their weekly team meetings or 1:1's "Have you all responded to the invitation?"
Tips for increasing attendance rates
Large events
Choose a date and time that you know works for your audience
Don't compete with similar events – you may be able to capitalise on an existing event particularly if you're inviting out-of-towners but generally speaking it's worth checking what other events are happening around your proposed date and finding a clear space in the calendar
Simplify the registration / RSVP process – If you're using online registration, make your forms as easy as possible to complete.  The fewer fields the better!
Offer incentives for early RSVP's (if appropriate).  These incentives are a must for getting early registrations for business-related events.  Also consider other give-aways or value-adds to people who sign up early such as premium seating or reserved parking
One reason to come isn't always enough – make sure all of the benefits of attending are clear in your invitation
Include transport and parking guides
If it's an outdoor event include the wet weather contingency
If you do use an online RSVP manager make sure the registration site is mobile friendly!
For smaller meetings or seminars (for ease we'll refer to both as meetings):
Send a great agenda that is very clear and enticing with the invite
Establish a reputation for starting on time and finishing on time – make that clear on the invite
Choose a venue with good parking and transport
Tuesdays and Thursdays are popular meeting days
Avoid holding long meetings on Fridays if possible
Don't schedule meetings on the eve of holidays
Be sensitive to attendee travel requirements and likely travel times for the event
Share your tips and tricks here to help others!
Happy Eventing Everyone!